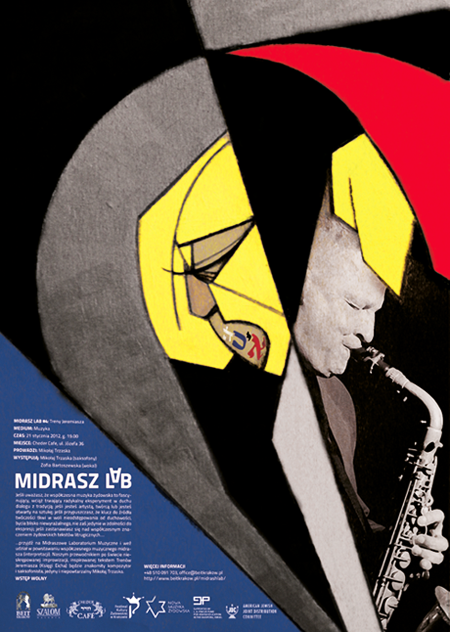 With the recent review of the
Inner Ear Quartet cd
and the soon to be posted interview Mikolaj Trzaska is already heavily featured on the blog in this time so I will write only briefly about his last performance in Krakow.
The evening in Cheder Cafe was a part of a series of Midrasz labs organized by
Beit Krakow
- a youth association that's reviving jewish society and jewish culture in Krakow.
Midrash
means an interpretation, and the subject chosen for the evening was
Eikhah
- the book of lamentations written by prophet Jeremiah who mourns after the destruction of Jerusalem.
A particular evening as it was something much more than just a concert. Mikolaj started by introducing himself, telling about his childhood, about how he found out about his heritage, what it means for him. He commented those stories with two solo improvisation, being equally honest and intimate and attention-grabbing in his music as he was in his words.
With Zofia Bartoszewicz he "read" through chapters of the book, creating together a musical story of sadness, anger, solitude and hope. Story which, as the evening went on, was also narrated and commented by Tanja Segal - a female rabbi. In the final part of the evening Mikolaj and Zofia were joined on stage by music students who were in the audience - and, although they (the students) seemed bit reluctant at first, they created together a pair of quite inspiring pieces, melodic, open, filled with gentle yet intense interactions.
A glimpse into the interview with Mikolaj as I find this fragment a fitting commentary: "people need, we need to be able to identify ourselves with something good, not only in ourselves but also outside, in culture, in family..". And this evening was a good example of that. A thought-provoking, heart-warming (despite the subject) intimate and very friendly meeting with an artist and the culture he represents.
At the end musicians and the audience celebrated together the end of sabbath and we all wished each other a happy new week. It is quite beutifull that an evening of lamentations ended in such a joyfull way.
Mikołaj Trzaska - bass clarinet, alto saxophone
Zofia Bartoszewicz - voice
Cheder Cafe. Krakow. 21.01.2012