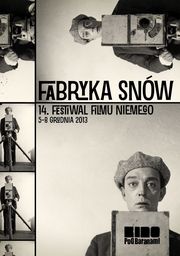 Silent Movie Festival is an unique event, it shows classic, or not to much, titles of the era when movies were literally moving pictures. No audio doesn't mean no music though - such would bond with the cinema from the very beginning.
During the four days of the festival 14th edition Krakow's audience will have a chance to see movies a variety of movies (some of the feature themes are - Paola Negri's career, "Sleeping Beaty" - a classic pre-Disney rendition of the tale from 1916 as well as last as the 2012 version, retro-erotica or a classic "Cameraman" by the one and only Buster Keaton).
Such pictures will be completed by live music, plenty of which should interest the lovers of alternative, indie, jazz and improvisation (100nka, Trifonidis Roots Trio, dj Lenar, Waclaw Zimpel and Jazz Band Ball Orchestra are among the artists to appear).
Please check the festival's schedule at
cinema's website
for the complete schedule.
I'll report back to you on some of the screenings.