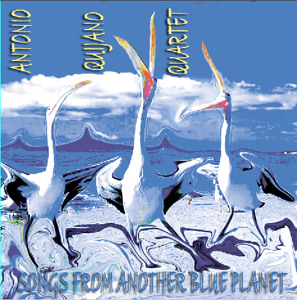 Antonio Quijano - 31TET bass guitar, bajo profundo ordinario
Paul Dunmall - soprano saxophone, tenor saxophone, clarinet,
chanter
Philip Gibbs - Sabre electric guitar, Marble, Donuts
Marco Anderson - tamboros electricos, piano
guests:
Jonathan Scott - djembe
Ruby Tuesday Anderson - voice
SLAM Records 2011
This release is an effort of bringing together the world of fusion and free jazz, trying to mesh the power of the groove with the wild improvisation. The background story of the realisation of this music brings more points to this argument - not only the leader of the group could not show to one of the two recording sessions and had to add his line after the improvisation had already happened, but some the order of musical narration has bas been altered and rescheduled in a vein of famous Teo Macero / Miles Davis experiments. Fortunately, apart from some more evident (purposedly so) loops, these manipulations are not so evident or invasive, even if their presence in itself goes against my idea of spontaneous creation.
The problem is though not the use of different methods but the lack of results as this cd doesn't deliver what it promised. The groove is steady but not powerfull, the bass player is obviously a gifted instrumentalist, but while his playing is influenced by Jaco Pastorious I find his sound lacking the clarity the Jaco gave you, the grooves don't dance, don't hypnotize, don't really groove. The improvisations aren't as well as wild as you could have hoped for. I can't really understand why Dunmall is sticking for more than a half of the program to soprano saxophone instead of the guttier tenor. Of course there are some moments where it all comes together - like the smoking guitar / saxophone exchange in "Staggering", but it's not enough, far from it.
On the cover you can read Walter Kolosky's description: "If John Coltrane played in Weather Report and rang up a younh John McLaughlin - The Antonio Quijano Quartet is what they may have sounded like". This is absolutely fitting and precise, but, to my ears, why would anoyne want to hear such a mixture is a main question. I love Coltrane, I appreciate McLaughlin (especially what he did with Miles and Teo Macero), I even used to really dig Weather Report - but this mixture simply doesn't work. Could be that I can't process fusion sound anymore (unless it's a sentimental journey with the classics), but on the other hand there are others (Wadada Leo Smith & Henry Kaiser Yo Miles! band is a great example) who are trying to marry the free and the groove and they're having much more success with it.