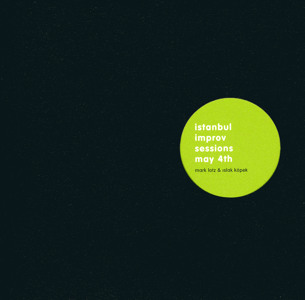 Mark Alban Lotz - piccolo, c-, alto, bass flutes, prepared flute
Islak Kopek:
Sevket Akinci - guitar
Kevin W. Davis - cello
Korhan Erel - laptop, controllers
Robert Reigle - tenor saxophone
Volkan Terzioglu - tenor saxophone
Evil Rabbit Records 2011
Improvisation is a language that doesn't care for cultural differences. Improvised music could be well the most democratic, universal form of communication and expression there is. And what you can hear on this cd is a strong argument for that thesis as german flute player joins the musicians from Istanbul group Islak Kopek (two of them amercian expats) for a series short musical conversations. 4 pieces are played by the entire crew while the other 11 present a different configurations of duos and trios.
Kevin Whitehead in his liner notes speaks about intercultural (or even intergalactical) meetings. And I can easily immagine the four Lotz / Erel pieces being a kind of conversation between ages, with flute being one of the most ancient instrument on Earth and the electronic sounds of laptop coming from an entirely different era, or planet. Yet they manage to meet, driven by the goal of knowing each other, of making a connection, thus expanding proper universe. The sparkling contrast of the sounds and yet the clear community of the minds makes for some of the most inspiring moments of this cd.
Lotz shares also one dialogue with all the others members of Islak Kopek and finds a way to interact with each one (instrument and musician's personality) differently - he follows the fiery free jazz saxophone and soothes it down ("Sacred" with Terzioglu), in the other sax-flute duo he's melodic attitude slowly gravitates towards the extended breathing techniques displayed by Reigle but he retains the singing quality of flute's timbre ("Scared"), he answers the string overtones of cello with polyphonics and sung notes which brings to a heated exchange ("Talking" with Davis), he rides the rapid guitar chords with swift flurrying notes on his own ("Diamond" with Akinci).
While the tracks are not ordered this way, still It's fascinating to hear the palette of sounds expanding, the music going in more directions and the will to push in order to connect more disparate elements even stronger in the trio pieces and (especially so) when entire ensemble gets on the stage. Like in the evocative "Stop" (Lotz / Reigle / Terzioglu) where each fragile chord bring the moment of silence. There's the profound feeling of unity, of direction, of compassion in the slowly harmonizing sounds ("Mouths") in the patiently unfolded crescendo, the sense of vitality and passion in expansion (wonderfully expressive saxophones' dialogue in "Our").


I'm not really sure what words depict this music properly. For all I feel it's profoundly humane, for all I kow it doesn't hold any barriers of culture, race, language, religion, time and space. A democratic and universal form of personal expression and communication.
Listen to the excerpts from the album on soundcloud.
mark lotz / islak köpek, CD istanbul improv sessions may 4th (excerpts)
by
Istanbul Improv Sessions