Without unnecessary fuss - here's where's to be and listen to next week :)
17.06 Jazz Jam Session at Harris Piano Jazz Bar
You can start off the week with a jam session led by the Krakow youth's finest Bartek Prucnal, Kuba Pluzek, Mike Parker and Dawid Fortuna (the video is from Mike Parker's Unified Theory where Bartek, Mike and Dawid play together as well).
17.06 Sebastian Zawadzki at Piec'ART
For somewhat of more intimate setting, a piano solo by Sebastian Zawadzki, member of Tone Raw quartet, whose debut cd surprised with mature sense of direction.
18.06 Nucleon at Alchemia
Nucleon plays music that flows between electronic and acoustic elements, primal ethno and post-modern ambience. The music can go anywhere, from the dense rhythmics of Jakub Rutkowski (acoustic and electronic drums) and Tomek Gluc (handsonic, groovebox, sampler), radical sax cries to elusive and poetic guitar's string echo.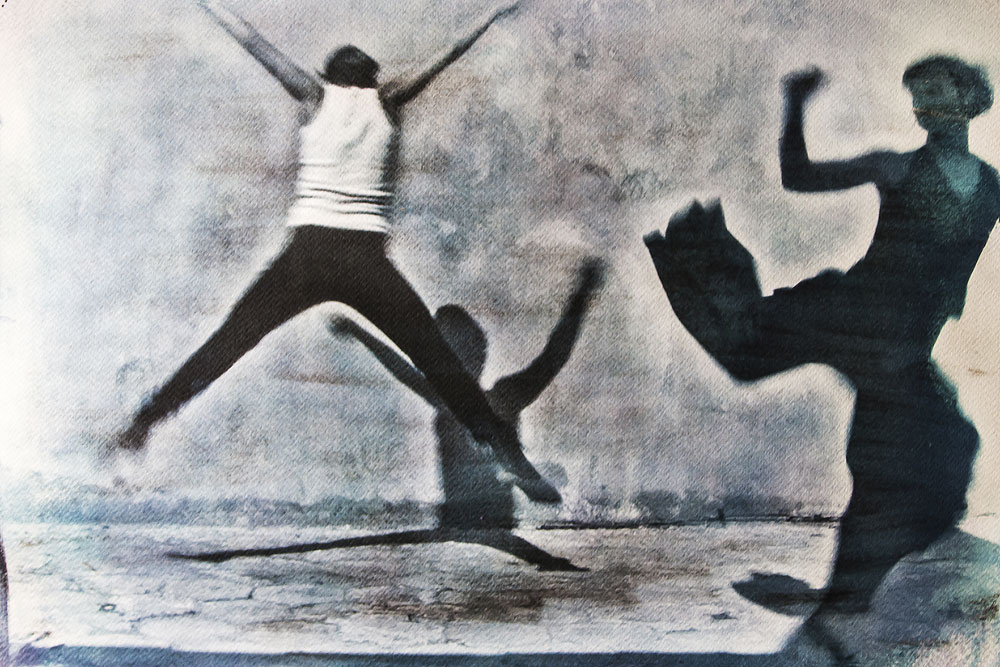 Aleksandra Konik photo
19.06 Free the Dance with Help Me To Crash Band and The Kurws at Alchemia
A multi-media evening that begins with the opening of Aleksandra Konik's photo exhibition and follows right through with a performance from Help Me To Crash Band (Malgorzata Haduch, Maria Mavridou - dance; Arvind Ganga - guitar) and punk ensemble The Kurws (which could be roughly translated as "The Fucks").
20.06 LXMP and 60 Minut Projekt at Bomba na Placu
The very same people with two completely different projects born in their crazy minds - Macio Moretti (the spritus movens behind the half of Warsaw alternative scene and Lado ABC label) and Piotr Zabrodzki. LXMP is a synth-heavy band and they'll play their own vision of Herbie Hancock's "Future Shock" while 60 Minut Projekt was born on a twisted drum'n'bass party.
20.06 Joachim Mencel during the international Krakow Poetry Symposium.
As actors and poets will discuss and talk and reflect Joachim Mencel will play during the second evening of the event (place PWST at Wyspiańskiego). You're to decide which part of the evening is of more interest to you.
21.06 Avant Avant Garde at Bazylika Bożego Ciała
A very particular event that will include a lecture, listening session as well as live performnces by

Burkhard Beins, Michael Vorfeld,

Tomek Chołoniewski

, Jean-Luc Guionnet & Thomas Tilly, Gamut Ensemble.
With the most intriguing being probably the concert for church organ and simple sonic waves (Jean Luic Guionnet & Thomas Tilly). More on the event's fbook page.
22.06 Piotr Orzechowski and Marcin Masecki with Capella Cracoviensi - "Bach Rewrite" at Wianki
Wianki event grew up to three days, among the many parts of the program one is of a particular interest - two of the most inventive polish piano players Marcin Masecki and Piotr Orzechowski along with the acclaimed chamber orchestra Capella Cracoviensis will play music by Jan Sebastian Bach.
21-23.06 Art of Improvisation Meeting at Wrocław
This edition of the Meeting with Wroclaw will feature performances from Augusti Fernandez / Evan Parker, Aki Takase. Aside from the concerts themselves festival includes meetings, workshops and film screenings.
Full program here
.