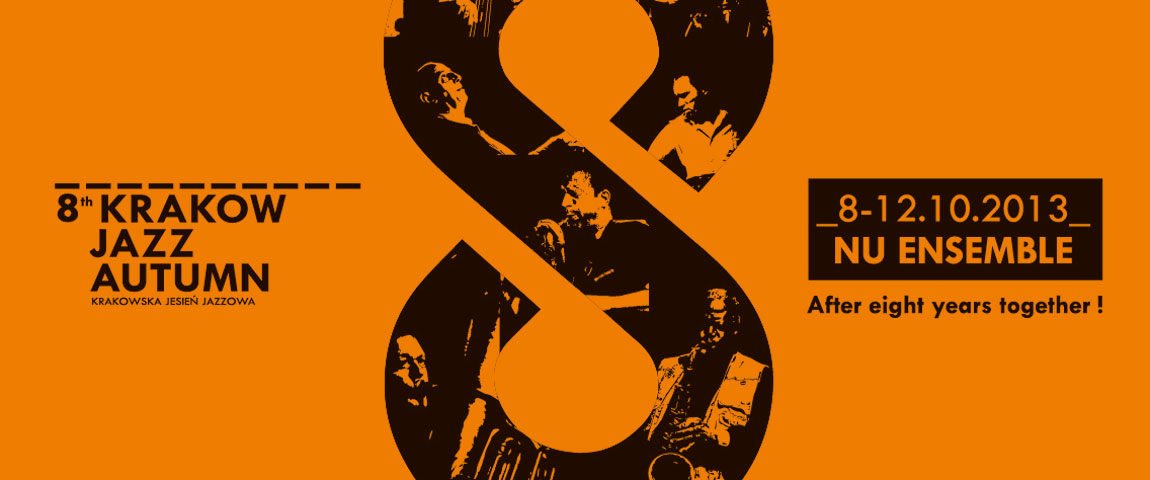 Last couple of posts I've been inviting you to various places for a variety of great short and long jazz festivals. I'ts high time to invite you to Krakow to follow the 8th Krakow Jazz Autumn Festival.
During 8 years with Krakow Jazz Autumn the audience had a chance to seen some unforgettable concerts and a number of brilliant artists, both young cats as well as famed veterans of the stage, some of whom become a frequent visitors in the cellar's of Alchemia club. Many of the concerts have been recorded and released by the Not Two records.
Faithful readers of the blog will remember that the whole blogging thing started during the 2010 Autumn Jazz Festival, as I decided to post daily about a week with the Barry Guy New Orchestra.
8th Krakow Jazz Autumn sports a very coincise yet a reach and intensely-packed program with two week-long events at its core.
Couple of years back (5 if I'm not mistaken) a Festival introduced a special formula - a big group would rehearse during the day, musicians would play improvised concerts in small combos in the evenings, with one final orchestra performance on the final night.
The success of the formula produced more events of a sort in the following years, including the above mentioned series with Barry Guy and his New Orchestra. A member of which is one fellow named Mats Gustafsson.
To start off with a big bang, the 8th festival will gather together the Nu Ensemble a band under Gustafsson's direction, that includes such giants of modern improvisation as Augusti Fernandez, Joe McPhee, Peter Evans and Paal Nilssen-Love to name just a few, a band that will be reunited on one stage for the first time after 8 years! The details of the week's program are already available on the festival's site and I will include them in the weekly concert's schedule.
The project that 5 years introduced the festival's formula was
Resonance
that gathers musicians from Ukraine, Poland, Sweden and States (Chicago and New York) under the direction of Ken Vandermark. The band thus born performed and recorded more material over the next years, including an appearance on the Chicago Jazz Festival that resulted in the
"Kafka in Flight" release
. The band's return to Krakow in November constitues the second main event of this year's festival.
The two weeks are to be considered the main musical courses for the hungy ears. For the appetizers and the dessert there are three additional concerts (Matthew Shipp / Mat Walerian M-Theory Project; Gaia Mattiuzzi & Francesco Cusa; Clayton Thomas / Christian Marien / Gerard Lebik trio).
You can obviously count on Jazz Alchemist blog being there to keep nagging at you so you'd come down to Krakow, Alchemia's cellar, You won't be dissapointed.