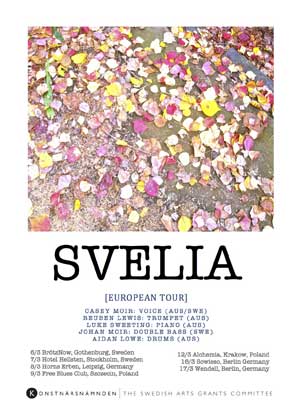 After a very very busy week it seems there's a chance to take a deep breath now. Still there are some worthwile events I'd like you to consider:
10.03 Ana Weber Percussive Mechanics at PIEC'Art (I wrote about this concert in the previous
schedule post
).
12.03 Svelia at Alchemia
Svelia concert at Alchemia is part of the Krakow Autum Jazz Reverb series - concerts to remind you about the main festival during the year inbetween its editions.
The band is:
Casey Moir - Voice; Naoko Sakata - Piano; Alfred Lorinius - Double Bass; Martin Öhman - Drums
more about the concerts and the band's members on the
alchemia website
.
15.03 Mike Parker Unified Thoery at PIEC'Art
Mike Parker is a New York born, living in Krakow bass player. His compositions for the Unified Theory band try to bring together such distand genres like avant jazz, rap, hip hop or rock. The group features some of the most prominent young talents of Krakow scene:
S.Pezda-ts, C.Baszyński-tr, M.Gawęda-p, M.Parker-db, P.Dobosz-dr